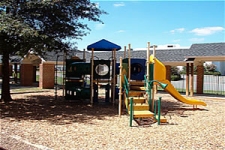 Promise Care Child Development Center is a non-profit, state-regulated daycare at Ridge Baptist Church. The Center meets the Commonwealth of Virginia's requirements for a Religious Exempt facility.
Promise Care has been providing quality Christian childcare to the surrounding community for more than 20 years.
We create an opportunity for children to learn about themselves and God's wonderful world. Our goal is to support the development of self-esteem and positive thinking in each child.
The Center offers programs for children ages six weeks through 12 years of age.
A few ways we strive to provide the best possible care and education for children:
Stimulating curriculum
Appropriate activities in art, music and sports
Summer programs
Safe and secure building
Staff of Christian role models
We encourage you to contact the Center to learn more about us today!